Downtown Rhinelander Inc.
Downtown Rhinelander, Inc. (DRI) is a collaboration of business and community members to spotlight the amazingness of Rhinelander. We are an official non-profit community group that welcomes all those interested in the growth of our businesses to join us.
Interested in becoming a DRI Member and supporting their work?  For only $25, you can be a DRI Member. What is your return on investment? A vibrant and beautiful downtown, thriving businesses supporting each other, and fun activities. A place we are proud to call home.
Our Beautification Efforts
Each year Downtown Rhinelander, Inc. keeps the beautification of our downtown alive, keeping our downtown attractive for visitors as well as community members.
Keep Downtown Rhinelander Blooming - Help support the flower basket program and other planting areas.
2023 donation information is coming soon.
Downtown Rhinelander Inc. leads many of the events and takes pride in getting people out to explore all that Downtown Rhinelander has to offer them. Events include:
Taste of Chocolate
Do you love chocolate? Now is the perfect time to get some delicious locally made chocolate and support local businesses! February 1st launched the 2022 Downtown Rhinelander Inc. (DRI) Taste of Chocolate fundraising event sponsored by Nicolet National Bank. Visit participating downtown businesses to purchase a $5 chocolate bar and support DRI and local businesses.
Bikes & Burgers
Our 5th annual motorcycle show comes to Downtown Rhinelander on the second Saturday in June in conjunction with the Art Fair on the Courthouse Lawn and the Rhinelander Car Show! Enjoy a stroll through our beautiful downtown while looking at amazing 2 and 4 wheeled art and build up your appetite for a real American burger from one of our great restaurants or pubs.
Redikulus Dae
The several decade long tradition continues! On the first Wednesday of each August, hit the downtown for REDIKULUS deals and fun while shopping our downtown businesses.
Downtown Duck Dash
It's the 1st Annual Downtown Duck Dash raffle. Adopt a duck, watch them dash down the Brown Street and you could win a prize!
Downtown Rhinelander Chalkfest
Our annual gathering of street chalk artists to downtown. Artists both local and from all over the Midwest share their art! All abilities welcome. This is a one day event with prizes for the winners.
Downtown Trick or Treat
Each year, the Saturday before Halloween, local Police & Fire Departments help us block off the streets for a safe and fun business to business trick or treating event. Trick or Treat at participating businesses from 2p-4p.
Holiday Open House
Continuing a tradition in downtown Rhinelander to kick off the Holiday season, DRI hosts the annual Holiday Open House event is the weekend before Thanksgiving. Stores will be filled with holiday gift ideas and will be offering special prices, and downtown Rhinelander will be in full holiday spirit as businesses will be competing to design the best holiday storefronts.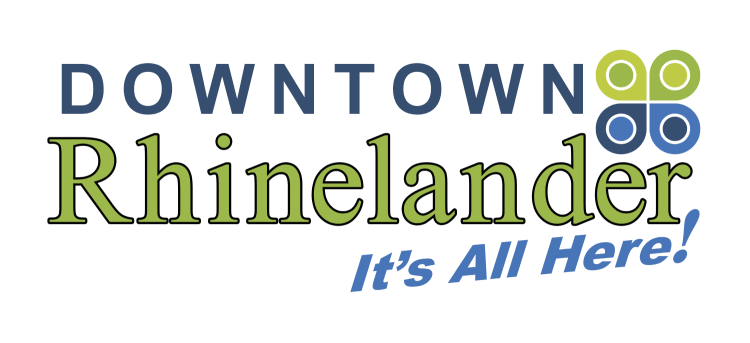 Advanced Accounting
ArtStart
Bath & Body Creations
BC Cakes and More
Bessey's Meat Market
Big Daddy's
Brown Street Boutique
Bucketheads
Butchershop Bake Co
By Request
Carpetiers Carpet One
Catalyst Wine LLC
Child's Frame Shop
Crimson Café
CT's Deli
Denim & Leather Exchange
Diel Insurance
Flander's Realty
Forth Floral
Fun Factory Sweet Shoppe
Grandma Dottie's Dips
Grey Wolf Nature Store
Hometown Pharmacy
Imaginuity
JC Weddle Books
Key Insight
Lattitudes
Little Babes
Lotus Salon & Spa
Lund & Taylor Bridal Gallerie
Magic Man Games
Magician Beautician
Mel's Trading Post
Nail Diva
Naunkca LLC
Nicolet National Bank
NoLimit Nutrition
Northland Music Center
Northwoods Embroidery
Northwood's United Way
Pat's Tavern
Pawsatively Stylin
People First Realty Group
Plane Parts Inc
Rhinelander Brewing Co
Rhinelander Café Pub
Richard L Zoerb Realtor
Riverview Appraisal Svcs
Salon on Stevens
Small Town Wanderer Travel
The Blue Davenport
The Hodag Store
The Inside Story
The Kindred Cottage
The Pines Event Center
Tilly's
Tricia's Treasures
Vital Industries
WXPR Public Radio
Officers
President - Currently Vacant
Vice President - Kayla Sachse, Kindred Cottage
Treasurer - Bob Lueder, Plane Parts Inc.
Secretary - Amber Whiteaker, Nauncka Technology
Board Members
Will Roffers, Northland Music Center
Kim Frederickson, Catalyst Wine Bar
Ruth Hempel, Forth Floral
Rhonda Jicinsky, CTs Deli LLC
Pat LaPorte, The Inside Story
Mary Taylor, Lund & Taylor Bridal Gallerie
Board members meet monthly and are the key organizers of events and future growth in our community. If you are interested in getting involved or have more questions, these board members and our staff is there to assist you.