Oneida County Childcare Coalition recognizes Week of the Young Child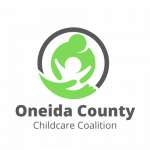 edirector_director@rhinelanderchamber.com
Early learning and child care have become an area of concern and priority for many in our community. In 2022, the Oneida County Childcare Coalition (OCCC) was formed and is comprised of individuals representing employers, providers, parents, local government, and nonprofit organizations. This task force grew out of Grow North's Oneida County Dream Up! Child Care Supply-Building Grant Program.
This coalition has been established to raise awareness on the current state of childcare in our county, interconnect the network of services available within our county for parents and childcare facilities and advocate for the childcare industry.
April 2-8, 2023 is the Week of the Young Child – a week focusing public attention on the needs of young children and their families and to recognize the early childhood programs, educators and services that meet those needs.
The first years of a child's life are when the most rapid brain development occurs and that lays the foundation for all future learning. Positive influences are also important. Children's cognitive, physical, social and emotional, and language and literacy development are built on a foundation of children's positive interactions with adults, peers, and their environment.
High-quality early childhood programs and educators are vital. Not only do they provide important benefits to children, families and our state and national economies, but that education prepares children to succeed in school, earn higher wages, and live healthier lives. That high-quality education depends on high-quality early childhood educators who ensure that children, supported by families, have the early experiences they need for a strong foundation.
The Oneida County Childcare Coalition wishes for all to recognize April 2-8, 2023 as the Week of the Young Child. When our society invests in educators, we also invest in children and families. Early childhood educators should be valued, respected, and compensated for the important roles they play. Thank you for all that you do!
The Oneida County Childcare Coalition is comprised of representatives from the Rhinelander Area Chamber of Commerce, YMCA of the Northwoods, Northwest Connection Family Resources, Children's Wisconsin, Grow North, Oneida County Dept of Social Services, Let's Minocqua, additional individuals, parents, childcare facilities and more.